A team of highly qualified professionals with expertise in a wide array of applications
Quebec's Infrastructure for R&D – the IRDQ – has a team of highly qualified professionals with expertise in a wide array of applications: microsystems fabrication, new materials synthesis, analysis and characterization of materials, process scale-up. We present here some examples of these expertise.
Some examples of expertise:
Optical and ebeam lithography
Lithography is a critical step in the miniaturization process. The lithography equipment offered in the IRDQ can meet the most challenging task in terms of surface structuring on the mico- or nano- meter scale. Expertise and processes developed around this equipment by highly qualified personnel make it possible to quickly meet the needs of the users.
Organic material synthesis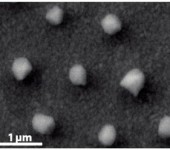 Electrochemical surface structuring
The electrochemical structuration of surfaces allows for an easy, low-cost fabrication of structures and motifs less than 10 nm in size. The expertise developed by highly qualified personnel makes the potential fields of applications wide ranging, from micro-electronics to energy and biomaterials.
Transmission electron microscopy (TEM)
The IRDQ offers an extensive range of transmission electron microscopes (TEM) which, combined with the expertise developed by highly qualified professionals, can provide a solution to the most demanding problems: analysis of small metallic particles (catalysts), self-assembled peptide arrays, 3D reconstruction of biological structures…
ATOMIC FORCE MICROSCOPY (AFM)
Atomic force microscopy (AFM) uses a small probe (apex < 10 nm) to sweep and profile surfaces without altering or distorting them. In addition to high-resolution topographic imaging (x-y = 2 nm and z = 0.05 nm), it is possible to observe a biological system's viscoelastic and/or chemical heterogeneity. The technique, being ideally suited to insulating and soft materials analysis, it can be applied to the study of biological systems (peptides, proteins, lipid bilayers, cellular membranes, biopolymers and biomaterials ...). Moreover, the AFM method is non-destructive, requiring no chemical marking or metallization of the sample.